TRE ELEVATOR
TRE ELEVATOR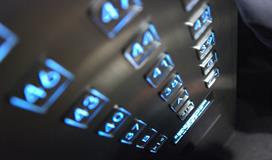 Reliable Professional Service ...
Reliable Professional Service ...




ELEVATOR INTERIORS
Is your elevator looking a little outdated?

TRE Elevators has a full in-house wood and metal shop where our expert craftsmen design and build custom elevator cab interiors.

From basic laminates to complex real wood masterpieces, all are created in our full in-house wood shop. Stainless Steel is also bent, stamped, welded and formed into elevator components. When you contract TRE Elevator to remodel your elevator cab interior you are contracting the manufacturer directly. Most of the large companies use sub-contractors to make their cab interiors. (WE SHOULD KNOW THEY FREQUENTLY SUB-CONTRACT US) Why pay a large mark-up just to have them contract TRE Elevators, Call us direct and save.
Laminates
are tried-and-true utilitarian surfaces that come in almost every color imaginable - including simulated woods. If budget is your primary concern, a standard laminate will outlast carpet or cloth wall treatments, which are more vulnerable to gouging, tearing, and nefarious odor retention. You can choose from hundreds of patterns and colors from several different laminate manufacturers such as FORMICA and WILSONART
INTERIOR MATERIALS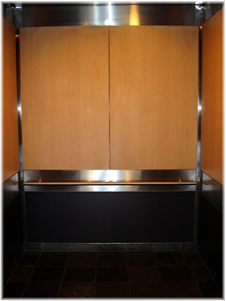 Wood veneers are not all created equal. The most resilient product is resin-hardened wood.
Manufactured with natural wood veneers that are infused - not simply coated - with a protective melamine resin, resin-hardened wood provides superior scratch and abrasion resistance. If design consistency mandates the use of wood in a high-traffic vehicle, consider a pre-engineered system that allows you to specify wood for the upper panels only. Stainless steel panels are a better choice for the "impact zones" (handrail panels, lower panels, and kick plates). This robust configuration is abuse resistant, and if wood damage occurs, it will be more economical to replace smaller panels.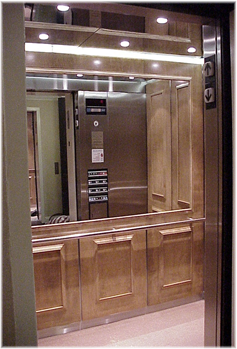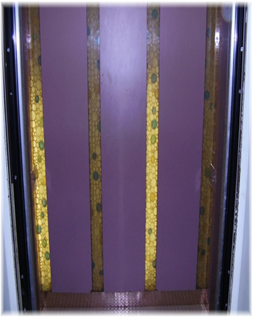 Stainless Steel
has universal appeal; it's durable, affordable, and needs little maintenance. While stainless steel panels have long been an option for standard cabs, pre-engineered systems can incorporate textured or patterned stainless steel panels in various configurations - improving the visual impact without dramatically increasing the price. Although traditional satin and polished finishes may be retouched in the field, textures and patterns can effectively conceal fingerprinting, minor scratches, and other signs of use; and mechanically applied finishes actually strengthen the surface of the steel. Stainless steel is the preferred material for elevators that service cafeterias, healthcare providers, laboratories, or other venues with stringent hygiene standards. It's also sustainable - the high recycled content and long life-cycle of stainless steel make it an excellent choice for green buildings


Brass
is very similar to Stainless steel but it requires more maintenance. Brass is a great way to add class to an elevator interior quickly and at a moderate expense.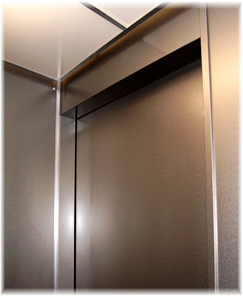 Composite metals are made by casting real metal granules in a tough polymer matrix. These highly detailed sculptural surfaces have the character and appearance of warm and cool metals, and can be used to complement almost any environment. Rugged enough for impact zones, the light weight of these castings makes them ideal for elevator interiors. These materials are often used by Architects and interior designers to create a stunning look.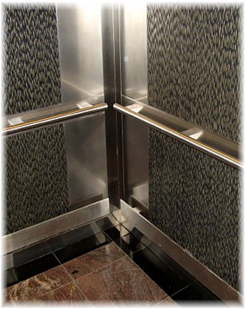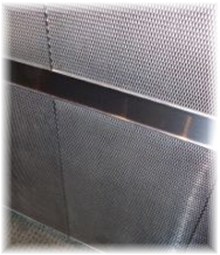 Metal mesh
is a woven material made from stainless and brass materials. It is a highly durable and high end expensive finish often used in hotels, high rises and other class A buildings.
Quick Support Links:
Quick Download Links:
(818) 988-7007
(818) 988-7007
Complete Elevator Service in the greater Los Angeles, Ventura and Orange County area.
Complete Elevator Service in the greater Los Angeles, Ventura and Orange County area.
COPYRIGHT 2012 WWW.TREELEVATOR.COM WEBMASTER